Our 3Meet Event was a big hit!!! Here is some of the action we caught on video:

Toronto Mazda 3 Meet401 Dixie Mazda presents: 3 Meet

401 Dixie Mazda has partnered with the TorontoMazda3 forum to present 3 Meet, an event that celebrates all things Mazda3. The brainchild of our Parts Manager, Tony Yu, 3 Meet is designed to provide Mazda 3 enthusiasts an opportunity to show off their rides, meet industry experts, enter the Show & Shine competition, win prizes, enjoy free food and refreshments and much more! In addition to 401 Dixie Mazda staff Parts Department experts on hand, we've put the call out to important suppliers to bring product and expertise to the event.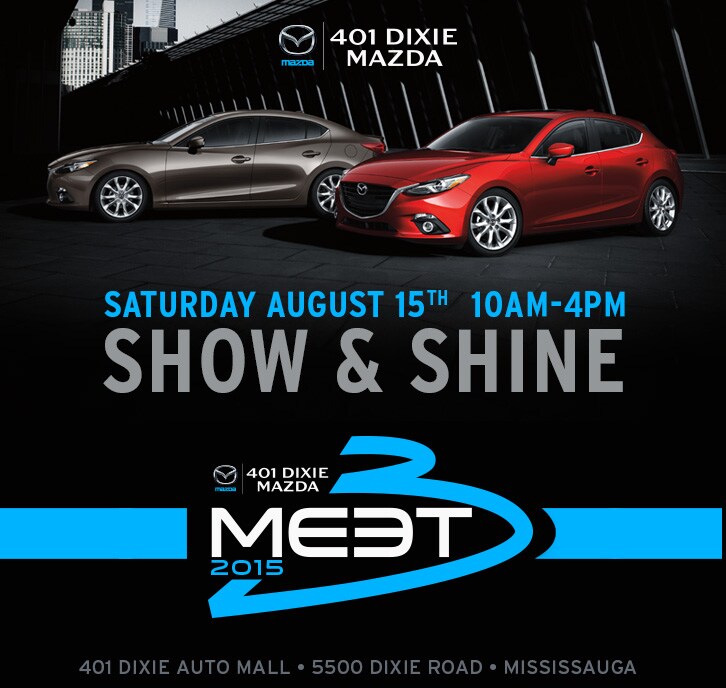 More announcements on this front as they become available. We'll have our very own Mazda 3 decked out in OEM original parts and accessories, plus predict a great showing of over 30 of the hottest Mazda3 vehicles in the GTA.
So join us August 15, 10 - 4 PM at 401 Dixie Mazda for the inaugural 401 Dixie Mazda - 3 Meet.